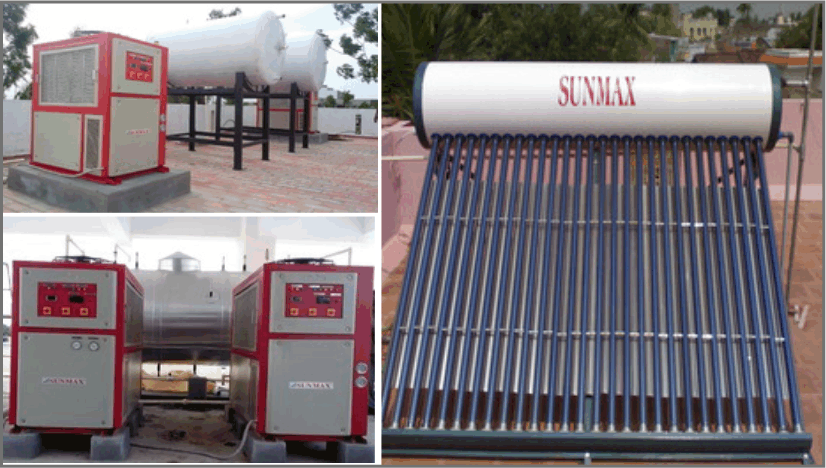 Sunmax Energy Systems Pvt Ltd

Sunmax Energy Systemss Private Ltd., in the brand name SUNMAX was established in the year 2002 in Pondicherry-India. The company manufactures solar systems such as solar water heaters, solar street lights, solar lantern, solar home lighting systems, solar power systems and Heat Pumps.

Sunmax Energy Systemss Private Ltd has its integrated plant and manufactures all the products strictly as per BIS specifications (Bureau of Indian Standards) which are also at part with International standards. Sunmax Energy Systemss Pvt Ltd has been awarded the Prestigious Certifications ISO-9001:2008 for Quality Management Systems.
The Company is registered under the Indian Companies Act to propagate the message of protection of the environment and savings on energy generated from conventional sources. The company has tied up with Indian Renewable Energy Development (IREDA) The philosophy of the company's management is professionalism in its various operations and developing a positive and forward looking culture towards total customer satisfaction with sense and save motto.
The Company has widened its operational coverage and looks forward to meaningful tie-ups for developing solar energy and heat pump applications in under developed and developing countries.
We are keen in promoting the Made in India products to strengthen the Indian economics. We give commitment to quality, excellence at every stage with quality systems. We have qualified trained technicians & a service department that happily continues to contribute to the growth of our company, by accelerating the growth of more than 1000 satisfied users. We assure you our best sales and service at any time.
1/4th of Operating Cost Of Electric Geyser & 1/3rd of Operating Cost of Diesel Boiler
Ideal for Hotels, Clubs, Cateens, Swimming Pool Diary Applications, Garments Applications etc.,
Advantages of using Solar water Heater
Very low operating costs and space consumption by area

24 X 7 X 365 hot water supply

Very few moving parts so low or no maintenance

Safe to operate since there is no heating element or burning fuel

cold air at 20ºc is a byproduct which can be ducted to reduce air conditioning bills

heating capacity at 60ºC : 500 - 2 Lacks liters per day


WORKING PRINCIPLE OF THE HEAT PUMP

Ambient air is passed over the evaporator coils having low temperature and low pressure refrigerant by using little electrical power. The refrigerant boils and vaporizes by absorbing the ambient heat. The Heated refrigerant is again compressed to high temperature and pressure by our heavy duty emersion Copeland compressor and passed through Heat exchanger and in turn transferring the heat to the water. Now after transferring the heat the low temperature refrigerant passes through expansion valve to reduce its pressure and further moved to its initial stage. Again this cycle continues. The Coefficient of performance (COP) is 4,which means it will consume 1 units of electrical energy to produce 4 units of heat energy.